OoLi's Phoenix Orthodontist Office
Our Phoenix orthodontist office is conveniently located on the south side of Glendale Ave between 7th and 8th Ave, about halfway between the I-17 and SR-51 freeways in central Phoenix. With our big round portholes, colorful sign and signature OoLi smile, we are hard to miss! Click here for directions, and please don't hesitate to give us a call if you're having trouble finding our Phoenix office.
We recommend entering from the west side, off of 8th Avenue, as our parking spots are directional and meant for counter-clockwise traffic around our building. You can enter carefully from Glendale Avenue, just use caution when rounding the corner of the building,  due to low visibility. When you arrive, you'll find ample parking on the south and east sides of the property.
When you walk into our Phoenix office, you'll be greeted by name by one of our friendly OoLi team members from behind the counter to your right, who will immediately engage and help you before your orthodontic appointment. If it is your first time visiting our Phoenix location and you're here for a free orthodontic consultation with Dr. Park, we'll ensure you have all of your initial paperwork done. You can fill out our patient forms online before visiting though!
We're usually very prompt with orthodontic appointments and consultations at our Phoenix office, but sometimes you may have to wait a few minutes. There will be plenty of seating, and we have magazines, game consoles, and should have a movie playing, to help distract and pass the time, particularly if you're the parent of a child who is back for an appointment. You may also help yourself to a cold bottle of water. Our bathroom is to the left, across from the check-in counter.
We are happy to chat with you to answer any questions, while you wait. If either you or your child would prefer, you may accompany him or her during his or her appointment. Just let someone know at any time, and we'll do our best to accommodate!
If you are visiting our Phoenix office for a free orthodontic consultation for braces or Invisalign, we will walk you back past our treatment area to our consultation office, where Dr. Park will spend some one-on-one time with you (and your child, if applicable), perform a quick initial examination, and then discuss treatment options and recommendations.
The patient chairs at our Phoenix orthodontist office face large floor-to-ceiling windows, allowing for plenty of light and a dynamic view of Glendale Avenue through our unique portholes. This offers our patients a distracting and pleasant view while waiting for and receiving orthodontic treatment for their braces and Invisalign.
We love music and will always have it playing in the treatment area of our Phoenix office. If there's something in particular you'd like to hear, feel free to give us some requests! We also love to get to know our patients and will engage you in conversation every chance we get, so speak up if you don't feel like talking during treatment. You'll be surprised how good the OoLi team is at understanding what you're saying and communicating with you during treatment, though.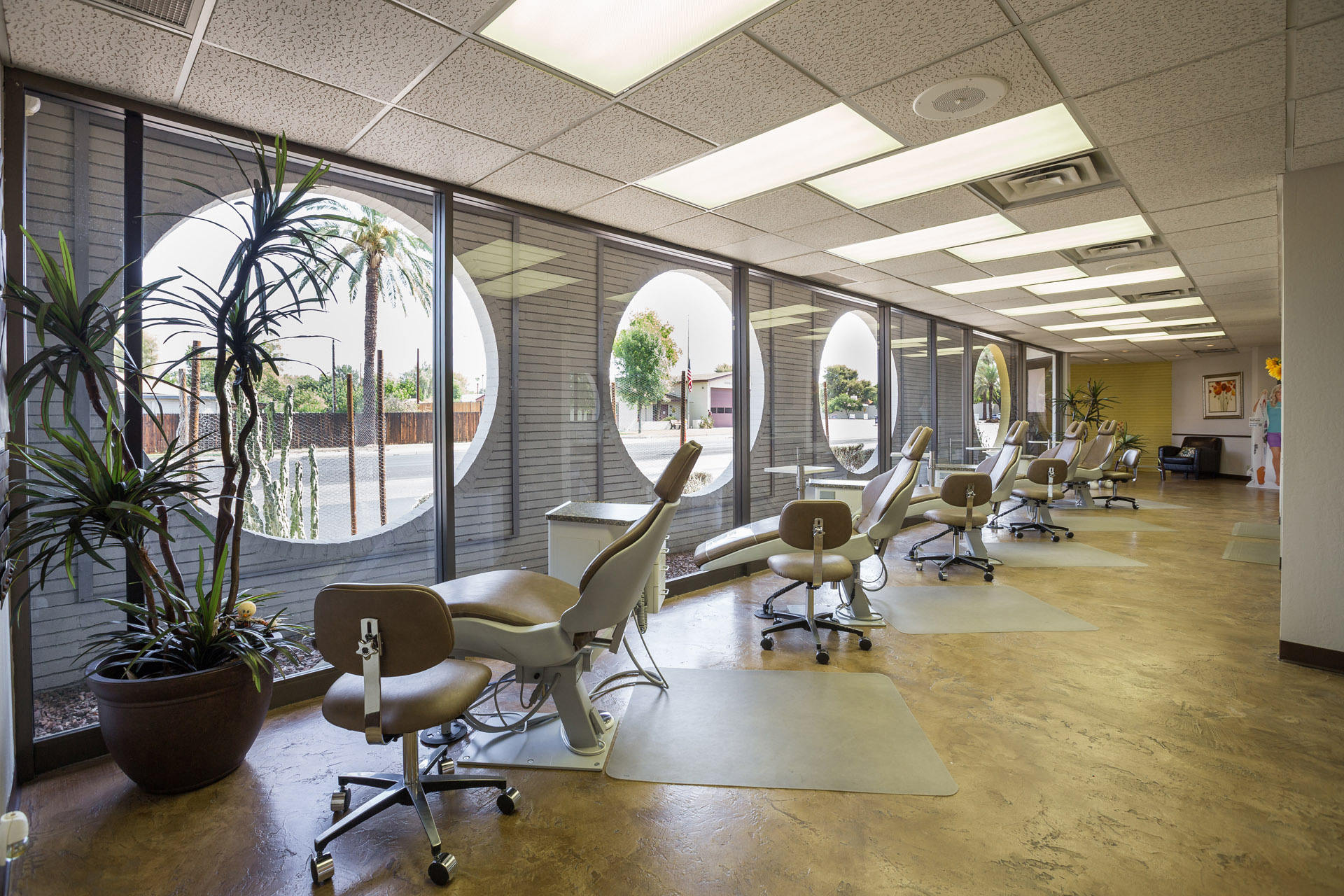 We pride ourselves on maintaining a fun, bright and pleasant office. If there is ever anything we can do to make your braces or Invisalign treatments with us more enjoyable, please feel free to speak up and let us know! Also, if you're located in Tempe, Mesa, Chandler, Gilbert, south Scottsdale or Ahwatukee, consider our Tempe Office, which may be closer to you and more convenient to visit regularly for treatment.