Types of Braces
Thanks to modern developments in orthodontic technology, there are more options for braces now than ever before. From clear braces and the innovative Damon system to traditional metal braces, we'll show you the best options for you and help you make an educated choice for your orthodontic treatment. Although the hardware varies between the different options, how dental braces work is largely the same for the types listed below. No matter what kind of braces you choose, you can be sure you'll smile with confidence at the end of your treatment!
Traditional braces are still by far the most popular orthodontic treatment option for children and teenagers. Modern improvements have made them more affordable, comfortable and effective than ever before, and they're still a great way achieve your ideal smile.
Although newer than traditional braces, Damon braces have established themselves as a popular dental braces variation. This kind of braces treatment can help move your teeth more comfortably than other kinds of braces, due to their self-ligating (or "floating") nature: Damon braces use a slide mechanism to hold the wire, as opposed to elastic ties that come with traditional braces, eliminating some common friction and discomfort. Sometimes Damon braces also allow for faster treatment times.
Ceramic braces are available as a bracket alternative for both traditional metal and Damon braces. In both cases, the metal bracket attached to the tooth is replaced with a tooth-colored ceramic bracket, which makes the braces much less noticeable. Traditional braces can also use clear/white colored bands to further conceal treatment.
Invisalign is an innovation in orthodontic treatment that allows you to align your teeth with removable clear aligners, making braces a more comfortable and hygienic experience. A popular alternative to bracket-based braces, Invisalign is a completely different treatment experience, and has its own pros and cons. We have an entirely separate guide to Invisalign as well.
The Cost of Braces and Insurance
Traditional metal braces from a board-certified orthodontist like Dr. Park at OoLi Orthodontics start around $4,000. Braces variants, including Invisalign, fall into this same average range of $4,000 – 5,500.
Do you have questions about insurance or procedures? We'll help you understand your orthodontic insurance coverage and guarantee that everything you need for your confident smile is included in your financial package. Details and a timeline of all necessary procedures will be presented to you at your free consultation.
Living Your Daily Life with Braces
Braces will require some small compromises while you wait for your new smile to emerge. After each adjustment appointment, your teeth will be a bit sore for a few days or so. We recommend eating soft foods during this time to avoid discomfort during meals. You may also take non-aspirin pain relievers like Advil, Tylenol, and Ibuprofen if the discomfort is bothersome. If the braces are poking you anywhere, you may apply the wax we give you, and be sure to let us know during your next visit if it persists.
In addition to choosing soft foods for comfort on occasion, you will need to avoid certain hard and sticky foods for the sake of the braces appliances themselves. Broken brackets need to be avoided, as they increase treatment time and require extra emergency appointments to correct.
Foods you have to bite into like apples, carrots, corn-on-the-cob, and chicken wings should be avoided wherever possible. Even stiff chewy foods like bagels and hard breads can break brackets. Hard foods like nuts, pretzels, and even just ice should also be avoided. We will give you a more extensive rundown during your consultation and when you begin treatment. Just use common sense when eating to avoid anything that can put pressure or pull on your brackets.
Because braces can trap food easily, we strongly recommend you brush your teeth after every meal. This will minimize the chances of accelerated plaque buildup and help avoid tooth decay. We will give you some nifty special cleaning brushes and tools to help make your more frequent cleanings easier and more thorough. The good news is, you will likely build some very healthy hygiene habits while you have braces!
Although we answer some of these questions elsewhere on our site, we figure it never hurts to have a simple FAQ to help answer common questions we get. If you have a question we haven't answered here, please reach out and ask us!
My top teeth aren't that crooked. Is it possible to get braces just on the bottom?
Whether orthodontic treatment focused on your bottom teeth will properly align those teeth with your upper teeth is something that can only be answered by visiting an orthodontist for an exam and consultation.
Orthodontic treatment is designed to develop teeth that fit well and, as a result, wear better over an individual's life. Think of the teeth in the mouth as a "gear" system. Teeth, like gears, must intermesh well to help avoid excessive wear throughout a lifetime of use.
I have seen three orthodontists and they each offer a different treatment plan. Which one is right for me?
There is no single "right way" to perform orthodontic treatment. As long as all of the doctors you have consulted are orthodontists, all offer valid treatment plans.
How long does treatment last?
The average length of orthodontic treatment is 22 months, according to a 2014 survey among members of the American Association of Orthodontists.
Depending on the individual's needs, treatment can range from 12 months to 36 months or more.
I had braces before, or I don't want old-fashioned braces. What are my options?
Thanks to advances in technology, your next-to-invisible treatment options may include ceramic (tooth-colored) braces, lingual braces – which are placed behind the teeth, or clear aligner trays.
Today's standard metal braces are much smaller and sleeker than those of even a generation ago, and less obvious than the braces you may have had previously.
Please review your options with Dr. Park by scheduling an in-person consultation to determine what type of treatment will be best suited to your needs.
Can I get braces if I'm missing some teeth?
It may be possible for you to have successful orthodontic treatment if you are missing some teeth, depending on your circumstances and your treatment goals. Orthodontic treatment may be able to close the space of a missing tooth, or may be able to create or save sufficient space for a replacement tooth. Consult an orthodontist to discuss what is right for you. Your orthodontist may need to work with your primary care dentist and/or other dental specialists to help you achieve optimal dental health.
Can I get braces if my teeth have crowns or root canals?
It may be possible for you to have successful orthodontic treatment if your teeth have crowns or root canals. Consult an orthodontist for answers that are specific to you and your circumstances.
I met with an orthodontist. Should I get a second opinion?
Whether to seek a second opinion is your choice. You may have had more than one orthodontist recommended to you by family, friends, or by your dentist. Ultimately, you should feel confident in the recommendations made by the orthodontist you select for your orthodontic treatment, and trust the ability of your orthodontist and his/her staff to provide you with the best possible care.
I am a senior citizen and considering orthodontic treatment. Is there an orthodontist in my area that specializes in treating seniors?
Members of the American Association of Orthodontists (AAO) regularly treat adult patients. About one patient in five is an adult. Many patients are in their 50s, 60s, and 70s.
Healthy teeth can be moved at any age. Depending on your circumstances, your orthodontist may work with your primary care dentist and other dental specialists as necessary to help you achieve optimal dental health.
Can I use a rubber band to align a turned tooth?
Self-treatment is not advisable. Dental and orthodontic treatment should always be conducted under the supervision of a licensed healthcare professional.
Patients should be aware that "do-it-yourself" treatments substantially increase the risk of irreparable damage.
For example, rubber bands can work their way under the gumline, and if forgotten or not promptly removed, they can strangle the root of the tooth and kill it. That could lead to the need for an extraction.
If a tooth has rotated, something within the oral cavity is the cause. Please consult an orthodontist to understand what has caused your tooth to turn and how it can be corrected.
How do braces affect my daily life?
While progressing through a braces treatment, you can expect your daily life to go largely unaffected. The two areas you'll notice the biggest change are in your physical appearance and what foods you can eat. Many patients feel that the temporary compromises they have to make in the areas are worth it in the end when they see their beautiful new smile.
To learn more about how living with braces will change your day to day life, take a look at our full length article.
Get a Free Consultation for Braces in Phoenix with Dr. Park
If you happen to be a resident of Arizona and are interested in getting braces, Dr. Park would be happy to offer you a free consultation to see if some form of braces or Invisalign is possible for you and your smile.
During your consultation Dr. Park will discuss your orthodontic concerns, goals, do a quick examination, and then discuss any treatment options that are a good fit for your smile.
You can also fill out the necessary forms on our website and skip most of the paperwork when you arrive! You can also schedule your free consultation by calling us at:
Although most of our patients reside in the Phoenix valley, we do have some patients that are farther away, across the state of Arizona in places like Tucson and Prescott, who come into the Phoenix area every 6-8 weeks for their appointments. We consider it a huge compliment when patients move away but continue to use OoLi for their treatment, but we can also transfer your patient info to another orthodontist, should you happen to move away before your treatment concludes.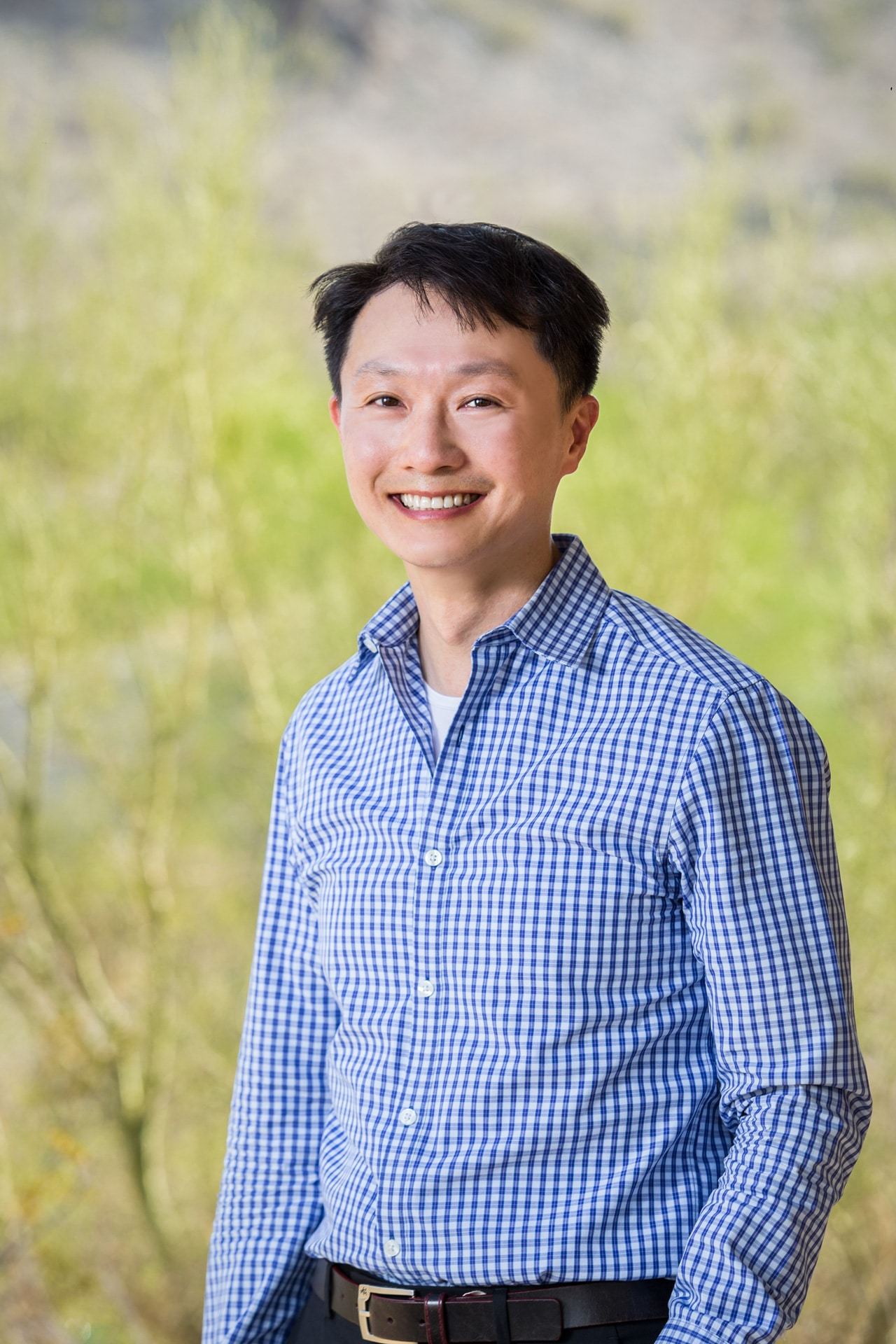 OoLi currently has braces patients in Phoenix, Tempe, Mesa, Chandler, Glendale, Scottsdale, Paradise Valley, Gilbert, Peoria, Surprise, Avondale, Goodyear, Buckeye, Apache Junction, Fountain Hills, Casa Grande, Maricopa, Tucson, Prescott and Prescott Valley – so no matter where in Arizona you live, we will still happily provide you the best orthodontic treatment possible!